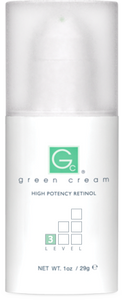 Green Cream® - high potency retinol - Level 3
Regular price $38.00 Sale
(1 oz. / 29g Airless Pump)
Green Cream® - high potency retinol - Level 3 is ideal for people that have sensitive skin or are new to retinol. If you have found retinol too irritating in the past, our gel based delivery system can minimize these adverse effects. Our multi-levels allow you to increase to higher strengths of Green Cream over time as your skin adapts to using retinol.
More Information
FEATURES AND BENEFITS
Promotes an accelerated cell cycle that gently exfoliates skin.
Minimizes the appearance of pores and scars.
Diminishes the appearance of fine lines and wrinkles.
Evens out skin tone and texture.
Reduces frequency and lifecycle of blemishes.
GREEN CREAM IS AVAILABLE IN THREE LEVES:
LEVEL 3: Ideal for beginners and people with sensitive skin.
LEVEL 6: Created for intermediate users and most skin types.
LEVEL 9: For experienced users only.
Ingredients & Instructions
Ingredients
Aqua, SD Alcohol 40-B, Glycerin, Octyldodecanol, Butylene Glycol, Cetyl PEG/PPG-10/1 Dimethicone, Retinol, Aloe Barbadensis Leaf Extract, Cucumis Sativus (Cucumber) Fruit Extract, Tocopherol, Retinyl Palmitate, Resveratrol, Acrylates/C10-30 Alkyl Acrylate Crosspolymer, PEG-7 Glyceryl Cocoate, BHT, Disodium EDTA, Sodium Sulphite, Triethanolamine, Diazolidinyl Urea, Propylparaben, Methylparaben, may contain FD&C Yellow 5, Blue 1, Red 40.
Instructions
After gentle cleansing with a mild soap or cleanser, aply a pea-size amount of Green Cream® to the entire face, initially avoiding the eye and neck areas. Start using the appropriate level of Green Cream® every other night for one to two weeks and gradually increase to once or twice daily as tolerated.
PACKAGING: 1 oz. Airless Pump
Green Cream®FAQs
The Green Cream won't pump out of the bottle. What should I do?
Though it is rare, sometimes the pump will not evacuate its contents after several pumps. This is a very easy problem to fix if you don't tamper with the bottle. The unique characteristic of our bottles is that air is never introduced to the contents of the bottle. As seen in this picture there is a plastic orifice that "seals" air out of the bottle. It is easy to assume that it is the orifice that it is preventing the product from pumping out of the bottle. That plug is designed to pull back so that the product comes out from around the sides of the seal. If you puncture that seal, the product will never come out of the bottle. Therefore, PLEASE DO NOT TRY TO PUNCTURE THE SEAL.
To get the pump working, just pop off the bottom of the bottle and you will see a cylinder that is clear. In the middle of that cylinder is a little nub. If that nub is pushed in tightly, just push up on the cylinder until that product comes out of the top of the seal. You have created a vacuum which will allow the product to pump correctly.
If you are still having problems, contact us and we can help you through the process.
Which level of Green Cream should I start with?
AST completed a questionnaire of over 400 Green Cream users and 82% said that they started with Level 6 with no side effects or problems. However, I must note that 100% of the people that answered that question said they followed the instructions completely. If you don't follow the instructions, then you should probably start with our Level 3 product.
In the 20 years of making Green Cream, we have had only 2 people to complain about irritation. If you have used a retinol before and had side effects, its best to start with our Level 3 product. If you consider yourself a sensitive skin type, Level 3 might be your best starting point. The results from Level 3 are modest, but the key to using this product is to get your skin to adapt to a retinoid regimen. After a few months of using this product you could then move up to Level 6 which will give you much more appreciable results.
We do not recommend ANYONE starting out with our Level 9 product. Even if you are using prescription strength retinoids, retinol has different skin receptors and can be very difficult to adapt to. Your best bet is to start with Level 6 and after using the product without any side effects, then you can move up to Level 9.
If retinoids are so great, why doesn't everyone use them?
The simple answer is that most people want results overnight and often experience side effects which they blame on the product. PATIENCE is a virtue when it comes to using a retinoid like Green Cream. Below you will find a table that list the most common side effects and how to overcome them. If you follow this protocol, your skin will adapt to using a retinoid.
| Side Effects | Description | Protocol Recommendation |
| --- | --- | --- |
| Irritation | Skin will feel tight and may sting (like a sunburn). In severe cases, skin may appear red and swollen. | Reduce the number of applications of Green Cream® or suspend use until skin normalizes. A moisturizer may ease irritation. In severe cases, hydrocortisone may be needed. |
| Flaking and Shedding | Because retinoids exfoliate the outer skin levels, it is natural that, skin may flake or shed. Flaking tends to occur more often in early stages of,acclimating to a retinoid regimen. | Frequent use of a moisturizer will settle down most flaking. A mild,exfoliant in the morning may remove most flaking. Adding more applications of,Green Cream® may be helpful as long as the patient's skin is not irritated. |
| Dry, Uneven Skin | At times, it may be difficult to distinguish between dry skin and, impending irritation. Some experience a symptom called "crepey eye syndrome". This is where the skin under the eyes looks like thin, wrinkled paper. | To alleviate dry skin, you will want to frequently apply a moisturizer. After using Green Cream® for a period of time, the skin will need less moisturizing. You may want to suspend use in the eye area while your skin normalizes, then slowly resume use until the skin acclimates. |
| Breakouts and Blemishes | As retinol use shrinks pores, users may experience more breakouts. This is not a reaction to the product, but a normal "purging" process that,eliminates impurities from the pores. | As long as skin is not irritated, it is best to "power through the purge." Application of a topical salicylic acid can help retinol penetration and speed up the purging process. |